There are three types of account in HQ: owner, admin, and member.
Every user has a role, each with its own level of permissions and access.
Owners and admins have full access to:
Invite new users and manage user roles and permissions,
Groups and members of your synced directory,
All newsletters, editions, and templates in your organization.
Members, on the other hand, can only access newsletters that they're specifically invited to. Owners and admins can toggle individual members' permissions to grant or revoke access to creating a newsletter, inviting other users to the organization, and accessing directory sync.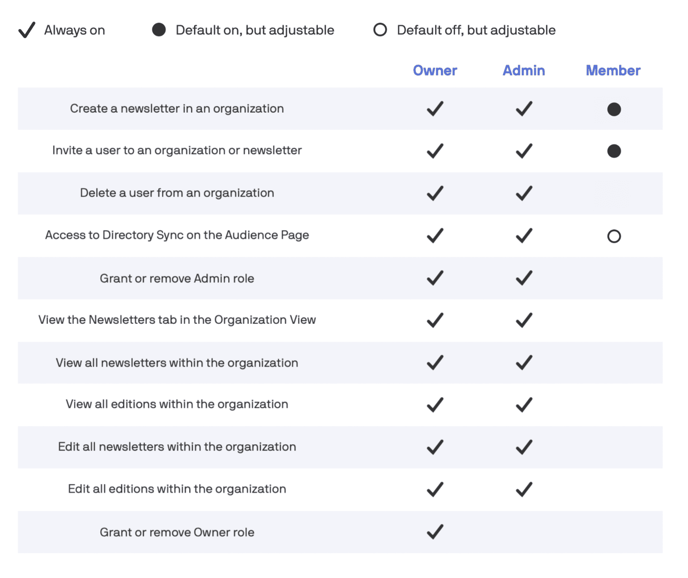 When you invite a new user to your organization, you have the option to set their role and permissions. Users cannot grant new users a higher level of access than they have themselves.
Managing your organization
If you are an owner or admin, you can manage users and newsletters in your organization through the Organization page, accessible via the lefthand sidebar.
The "Users" tab shows you every user in your organization, including their email address, role, and any newsletters that you both have collaborator access to. Click on a user's name to see a more detailed view of their profile.
If you are an owner or admin, you will also have the option to edit the roles and permissions of other users from this page. Only owners are able to grant or revoke owner permissions to others.
The "Newsletters" tab, visible only to owners and admins, gives you an overview of all the newsletters in your organization.
You'll see each newsletter's

title, last sent date, created date, average open rate, average click rate, and the number of recipients. You can sort your list of newsletters by any of these metrics.

Use the three-dots on the right to open a menu to delete a newsletter, or click on the newsletter's title to access the newsletter's workspace for a more detailed look.