Options and advice for sending out your edition
Options for sending
Send a test
We always recommend sending a test. Click on "Send options" in the upper right corner of the Editor and choose "Send a test." You will then be given the option of entering emails for whoever you would like to receive your test send, up to 50 recipients.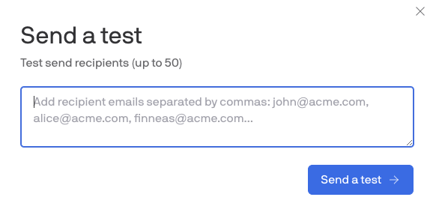 Send now
You're given the option of sending to your full audience for your newsletter or a custom audience made up of segments.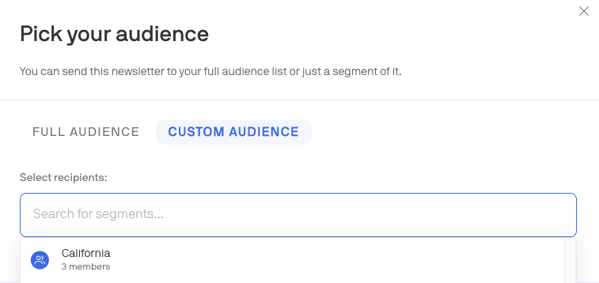 You can create custom audience segments under the "Segments" tab on your newsletter Audience page.
Schedule send
Pick a date and time in the future for your newsletter to be sent. The delivery time will be local to your (the sender's) timezone. There is no limit to how far out you can schedule a newsletter to send. As with sending now, you can choose between sending to your full audience or to a custom audience made up of segments.
Other tips
If I schedule a newsletter to send and then update its audience, will the newsletter send to the updated audience?
Yes, your newsletter will go out to its audience list at the time of sending.
Can I resend my newsletter to someone outside my audience?
Yes. Find your newsletter under the "Sent" tab and click on the three dots on the right to open a menu and select "Send again." You'll be prompted to enter the email addresses of anyone else you want to send this specific edition to, up to 100 recipients at a time.
Can a newsletter be unsent?
No, once a newsletter is sent it cannot be unsent or canceled.
Can I cancel or unschedule a scheduled send?
Yes, if a newsletter is scheduled to send but has not sent yet, you can edit the scheduled send time or cancel the scheduled send. Select the draft that is scheduled to send. At the top there will be a banner showing the scheduled send time and date as well as a button to edit delivery options. Select 'edit delivery options' then hit unschedule and update.
Who does my newsletter look like it's coming from when it's sent?
By default, Axios HQ newsletters send from noreply@axioshq.com, but you can customize this send from address by integrating with a custom domain. Sending from a recognizable email address makes your messaging friendlier, lets you stay on-brand, and gives your audience confidence that your newsletters are coming from you! Please contact your Axios HQ account manager or help@axioshq.com to get set up with your custom domain.
You can also edit the sender name on the Settings page to set the name that will be attached to your newsletter in recipients' inboxes, regardless of the send from address.
How can I prevent my messages from going into the spam folder?
There are a few basic steps we recommend you and your IT team take to help ensure your newsletters land in your audience's inboxes:
Allowlist outgoing requests to .axioshq.com/ in your firewall settings
Safe-sender noreply@axioshq.com and help@axioshq.com
If you're sending to an external audience, encourage them to safe-sender whatever email address you're coming from
Make sure to keep in touch with your Axios HQ account manager if you think your emails aren't reaching your audience, and we'll do our best to help figure out why!