Create or add to a newsletter within your organization
Once you log in, you'll be taken to your Workspace in one of two ways, depending on how you were invited to join your organization.
Joining an Existing Newsletter
You may have been added to your organization as a collaborator on an existing newsletter. Once you log in, you'll see the name of the newsletter at the top of the screen, as well as any existing draft editions. Select an existing edition to begin editing, or click "Create edition" to begin writing something new!
Creating a New Newsletter
Alternatively, you may have been added to the organization as new user, without any newsletters. When you log in for the first time, you'll see your empty Workspace and a "Create newsletter" button — click it to get started!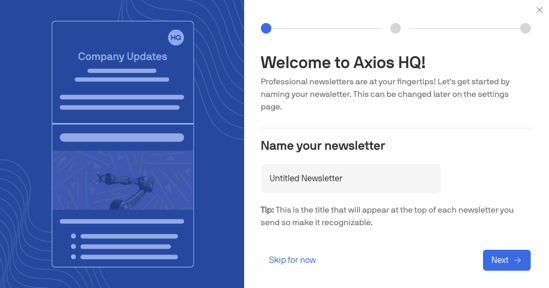 You'll be guided through setting your new newsletter up with a title, other collaborators, and a recipient list. You can always skip these steps, or change them later, if you're still deciding.