Your first time signing into Axios HQ
Getting started
Getting started with Axios HQ is easy! Once your organization has an account with Axios HQ, a current user or your HQ account manager can send you an invite to join the platform.
You'll receive an email with a temporary login password made up of letters and numbers: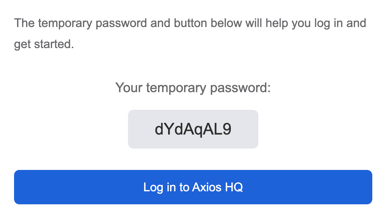 Navigate to editor.axioshq.com/login and use that temporary code as your password. You will then be prompted to set your own credentials and get started!
Note for SSO Integration
Axios HQ does not automatically generate accounts. Even organizations who have set up an SSO integration will need to invite each user to the HQ platform in order to gain access. These users do not need to create a password, but the invite step is necessary to be able to log in. Once that account has been created in HQ, users can login with SSO!
Resetting Your Password
If you have already logged into Axios HQ but have forgotten your password, click on the "Forgot Password?" link on the login screen.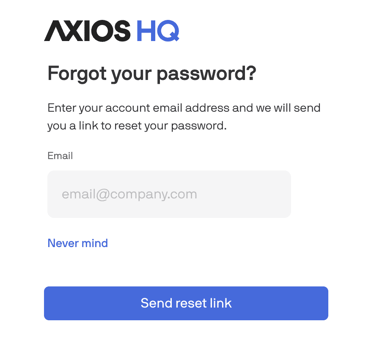 You'll be prompted to enter your email; after clicking "Send reset link," you will be redirected to the Reset password page. Stay on this page.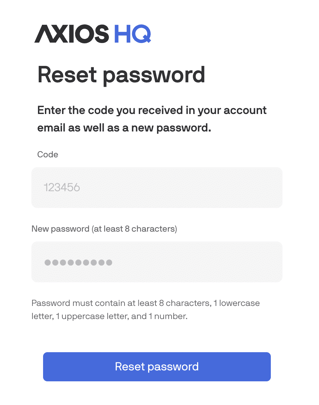 In your email, you will have received a six-digit numerical code. Enter this code on the Reset password page along with a new password of your choosing. If you are still having trouble logging in to your Axios HQ account or didn't receive your reset code, please reach out to your Account Manager or email help@axioshq.com for assistance.