Tips and tricks for writing your edition
Axios HQ will generate your intro card, which includes your logo or banner (if you have one), newsletter title and byline, the date, and Smart Brevity® count.
As you fill out the cards (the sections that your edition is broken into), our Smart Brevity® guidance will help you along the way! You'll see tips pop up, suggestions made, and general improvement recommendations to help you communicate more effectively.
You can add additional cards to your newsletter, by scrolling to the bottom of the editor and clicking the "add new card" button. Reorder your cards by clicking the collapse button in the upper right corner of any card, dragging your cards around, then expanding them again with the same button.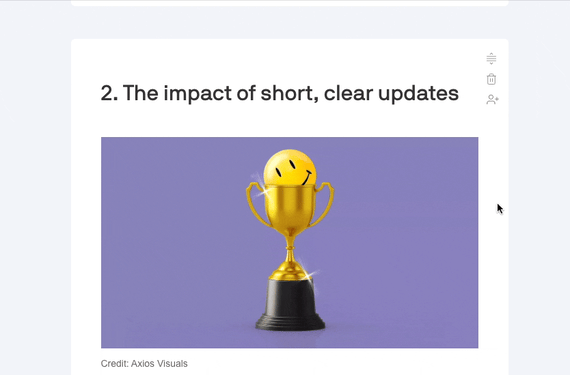 Deleted text can be recovered with the undo button in the toolbar, or with the keyboard shortcut Cmd+Z (Mac) / Ctrl+Z (Windows). However, deleted cards cannot be recovered.
You can use the toolbar at the top of the editor to format your text, with options to:
Bold or italicize your text
Create a bulleted or numbered list
Turn a paragraph into a blockquote
Add a hyperlink to the highlighted text
Select an emoji from our emoji menu
You can also use the toolbar to add an axiom – those bolded phrases at the start of a paragraph that help guide your reader's eye and tell them what to pay attention to.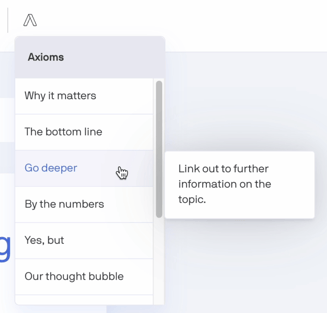 If you are an admin or owner, you also have the option from this menu to create custom axioms for people in your organization to use.
Images
Each card can have one featured image just under the headline at the top and as many inline images as you would like.
You can add inline image using the image icon in the toolbar at the top of the editor, then resize or choose whether to center or left-justify them. You cannot resize featured images, banners, or logos. For featured images, we recommend a 5:3 aspect ratio. A PNG with dimensions of 1000×600 px is optimal.
Embedding videos is not currently possible as most email clients (Outlook, Gmail, etc.) do not support videos. We suggest using a screenshot of the video as an image and hyperlinking out to wherever the video is hosted (e.g. the URL to the video on YouTube).
Once you add the image, you can click on it and a popup menu will give you the option to add a link.
You can also add a play symbol to the screenshot using an image-editor of your choice, or prompt people to click the image in the caption.
Collaborative Editing
You and your colleagues can work on an edition at the same time. Your teammates' cursors appear in real-time, showing their contributions in the HQ Editor. You'll see anybody who's currently present at the top of the Editor.

If a user has the Editor open but is not editing (window open and walked away, or scrolling and looking around not inside a card), their avatar turns grey. If a user leaves the Editor, their avatar disappears.
You can change your profile color by going to the My Profile page and clicking the pencil icon on the circle with your initials.
Only one collaborator can edit a card at a time. You'll see their cursor and the changes they're making in real time, but you won't be able to click into the same card.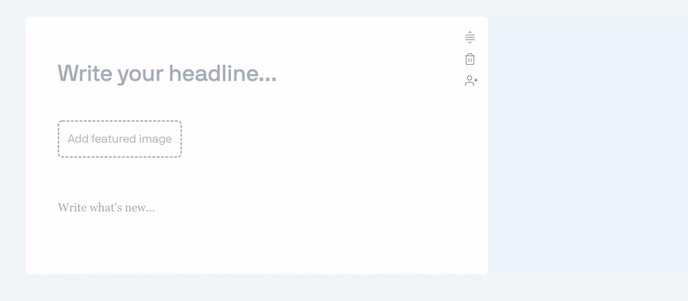 FAQs
Can I preview my newsletter?
Our editor very closely reflects what your newsletter will look like. Additionally, we recommend always sending a test to yourself to double check how your newsletter renders in email. There is also the option to preview your customization options (newsletter title, author name, colors, fonts, and banner or logo) on the Settings page.
Is there version history? Can I see who last made an edit to the platform and what they did?
No, this feature isn't currently available.
I'm having trouble with formatting when I copy and paste into the editor. What should I do?
We recommend pasting without formatting: Cmd+Opt+Shift+V on Mac or Ctrl+Shift+V on Windows.
What image file types are supported?
We support PNG and JPG images. GIFs also work for featured and inline images, but you cannot use a GIF for your banner or logo. For a high quality image, we recommend using PNGs over JPGs.