Write for the smart, curious core of your audience.
Picture someone in your audience. Ask yourself: What does my ideal reader need to be a more productive colleague? How can I make it more effective?
Start with the seven or so details that have impact on your reader's day. Consider which details they already know—updates heard recently, information that's common sense—and strike those out before getting started. Don't dilute the more pressing details your reader must see.
If you're trustworthy, essential, and valuable to the core of your audience, the surrounding people want access to that information too. Engagement radiates out.
All-staff updates are one of the most common use cases for HQ series. These updates can be business-focused—with packing on goals or OKRs, wins, and department-specific updates— or culture-focused—with employee or customer spotlights, reminders and recaps of events, and reinforcing organization values.
Many organizations prioritize updates that:
Share new information and provide essential context.
Explain why something matters with authority and expertise.
Explore the collision of your key themes or strategic initiatives.
Can speak to insiders and intrigue outsiders.
Yours could be a bit different, of course, but the key is to identify 3–4 priorities that crystallize what your core audience cares about and guide the decisions you make. If you used the four above, you'd find yourself focused on updates with longer-tail impact—information that is going to matter tomorrow, next week, next month, rather than something that will flash and fade today.
Every team can benefit from three key channels:
Knowledge hubs. This is Notion or your intranet, long-standing systems that document how teams work and what processes are. They're used every now and then.
Recurring email updates. These are an org's lifeblood. They synthesize progress, issues and opportunities so staff stays informed, executives keep a pulse on performance, and everyone has transparent, trustworthy access to information.
"In the moment" messages: These are your Slacks and Teams, the DMs you'd tap someone on the shoulder to say if you were in-person. Fast-moving with a short shelf life.
Use each one well, and readers start to understand where they can find the information they need. That helps your recurring email update—often sent weekly—be your teams' trusted go-to for new information.
According to eye-tracking studies, long walls of text in readers' inboxes make them feel sad, and most close the email without reading anything.
Information must be sharp and interesting.
Presentation must be clear and scannable.
HQ's template library helps you build your series. Templates are fully written out editions – just swap out the details for your own!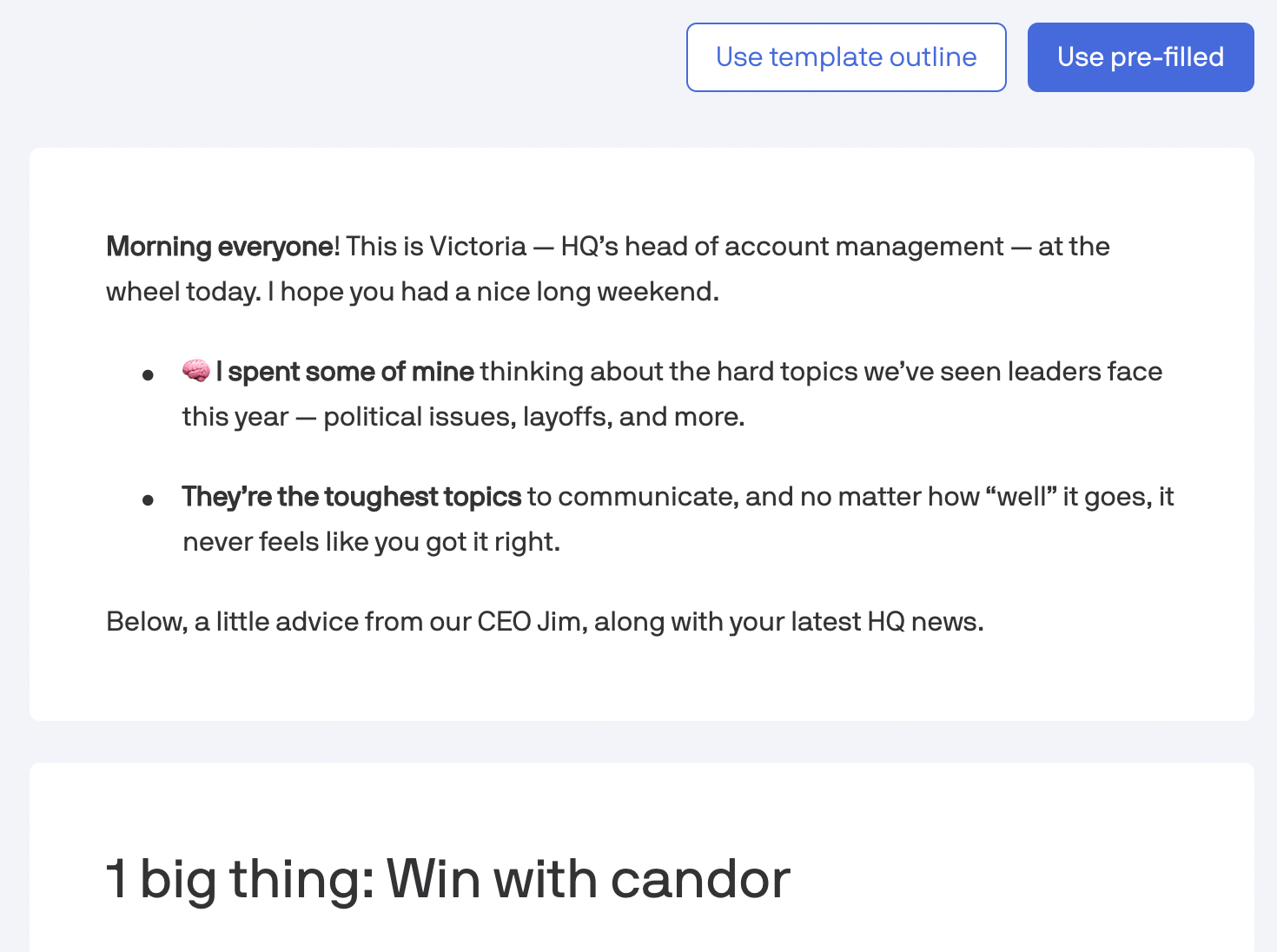 You also have the option of using just the template outline as a scaffold without any content to guide the structure and type of information you share.