Keep your comms on a predictable schedule with less manual lift
Routines automatically create your next edition on the cadence you choose. You can create a Routine for any newsletter in your Workspace.
To create a Routine:
Navigate to the Workspace > Routines tab and select "Create Routine."
Pick whether you'd like the Routine to create a blank edition, duplicate your most recent sent edition, or create a draft from one of your newsletter's templates.
Select your cadence. You can set your routine to create a new edition on a daily or weekly cadence — the same way you would any recurring calendar event.
👉 Pro tip:
Set it for when you want to
start
working on your update, not from when you want to send it.
Once saved, your new Routine is now live and will appear within a list on the "Routines" tab.
A new draft will then be created within your newsletter at your designated cadence. The Routines creator will also receive an email letting them know it's time to start writing, along with a link to the new edition.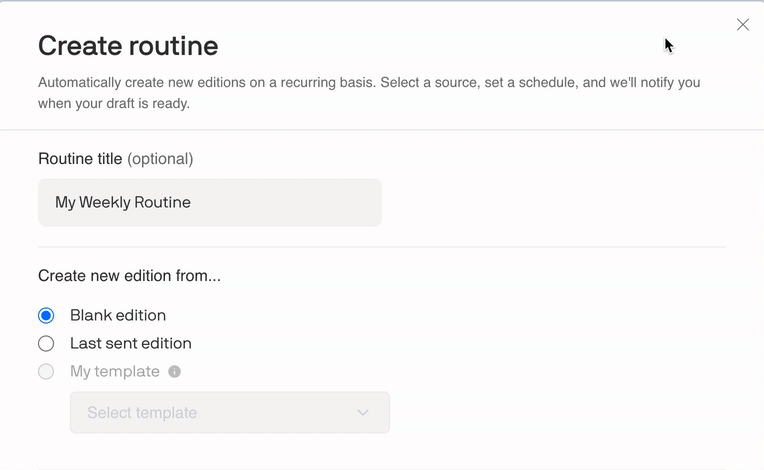 ⚡ You can also automate assignments. There are two ways to copy over previous assignments:
From a template, choose "My templates" to create your new edition from. Any collaborators you assigned in your selected template will stick around in the new drafts created by your Routine.
From your last sent edition, select "Last sent edition" then "Duplicate assignments." The Routine will capture all the unresolved and completed assignments from your last sent edition.
Note: Your collaborators will only get notified once a draft is created via Routines.
Have any questions or want to dive deeper?