Axios HQ has two pricing tiers available. Here are some answers to the most common questions we've heard.
What is the difference between Base and Premium pricing tiers?
Both options give you the ability to launch impactful internal communications. Our Premium tier offers SSO, along with more design customization options to showcase your brand's unique look and feel.
See a breakdown of the Base and Premium offerings below.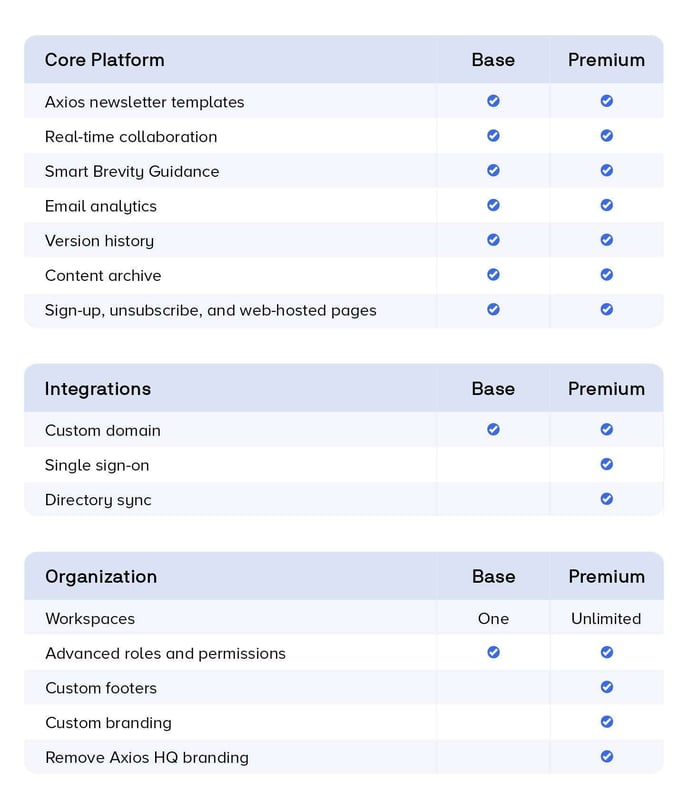 When does this pricing go into effect?
New pricing tiers took effect July 1, 2023. Any new customers joining HQ after that date will need to choose between Base and Premium. For current customers, you will discuss new pricing with your account manager when your contract is up for renewal.
What if I only need one Premium feature?
We recommend upgrading to the Premium tier, where you will get the greatest value for your account.
Will my cost go up as I have these items currently?
If you currently have access to Premium features, your subscription fee will remain the same until your next renewal date. At that time, you can discuss with your Account Manager whether you would like to stay at Premium or downgrade to the Base package.
What tier do I have right now?
Depending on what features are enabled on your account, you may have a combination of both tiers. If you have any Premium features at the time of renewal of your contract, you can make the decision to keep Premium or downgrade to Base.
Have any questions on the two packages, or to want learn more about what's available in each?